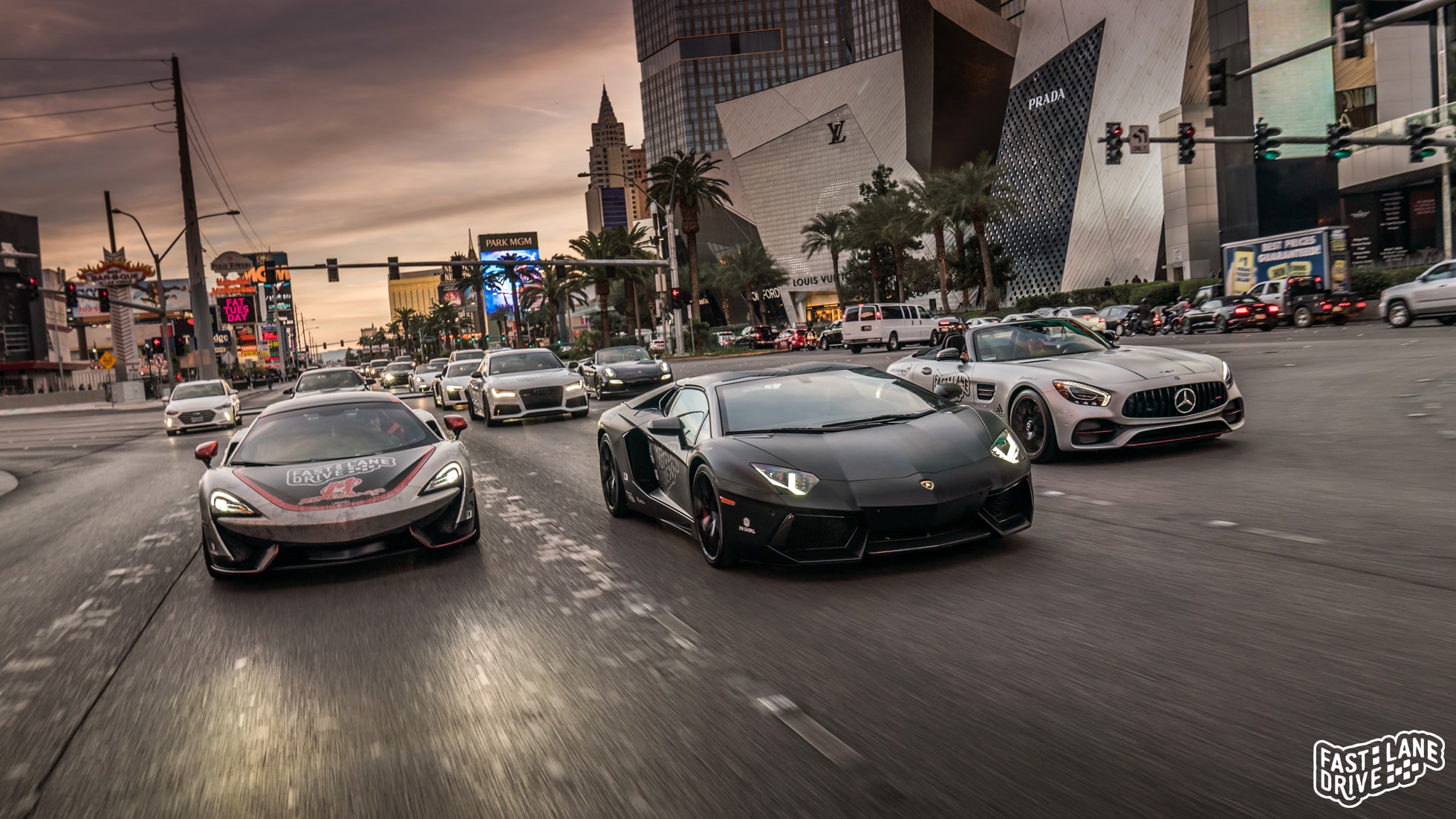 One Year. A milestone in any relationship. For Fast Lane Drive and O'Gara La Jolla it has been one year of amazing roads, incredible cars, and fantastic friendships. To celebrate, Fast Lane decided to pull out all the stops, and do not just a drive, but a full luxury experience. Destination, Las Vegas. 25 cars, 3 days, 60 participants, and one hell of a good time.
Fast Lane Drive is know for providing that perfect balance of technical driving rally with incredible afterparties and experiences. This event was no different. The Rally kicked off at Veloce Motors' The Vault, located in Miramar. Here participants had their rally decals installed by the best, Modern Image, and enjoyed a light breakfast. Once everyone had finished it was time for the drivers briefing and getting on the road.

Day 1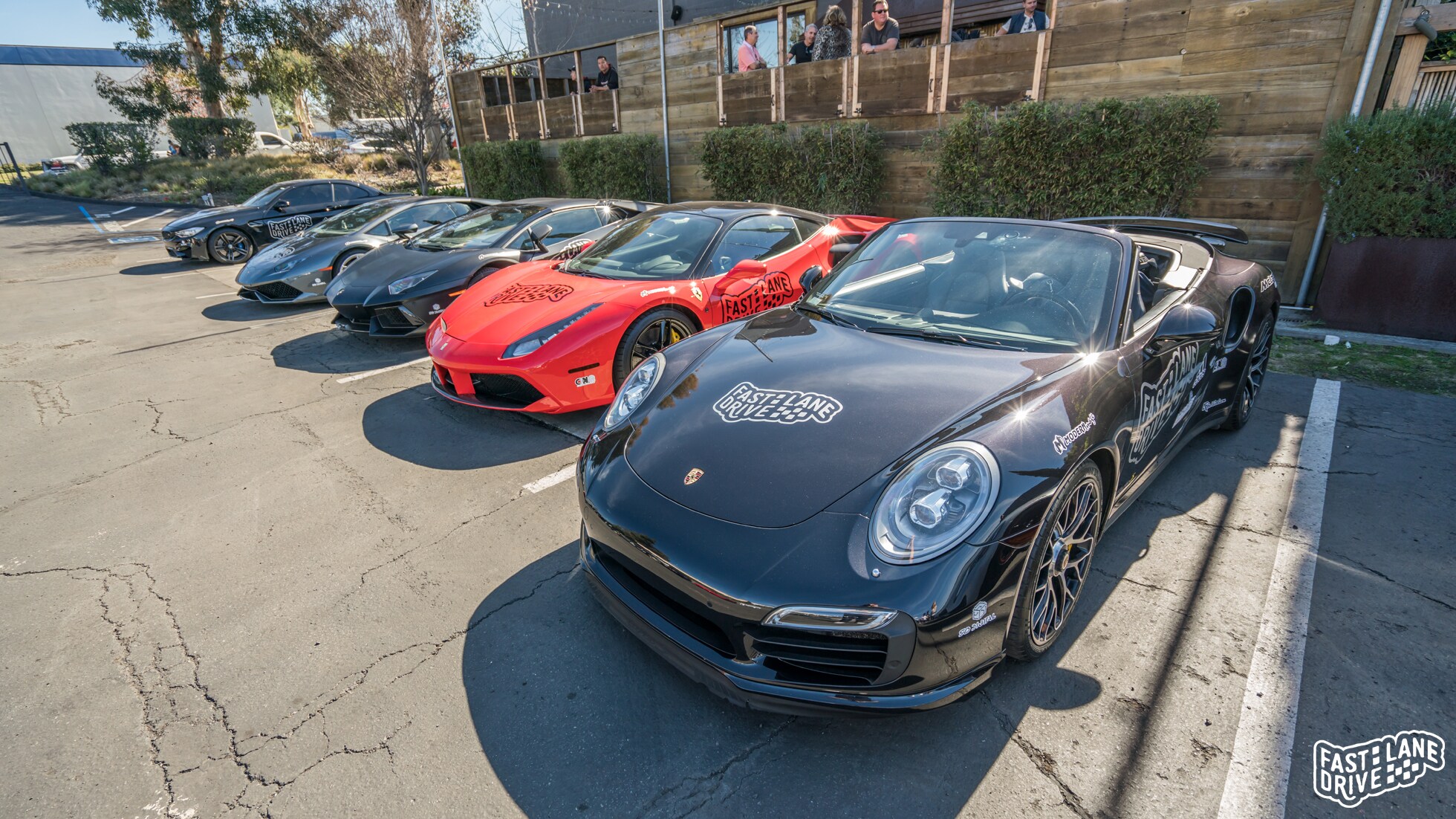 With plenty of time for technical driving later and a lot of ground to cover, we decided to take the most direct route. Once we reached the desert and the road began to open up, and so did the throttles. With the sun settling lower and lower we took advantage of the beautiful desert backdrop and took some amazing rolling shots.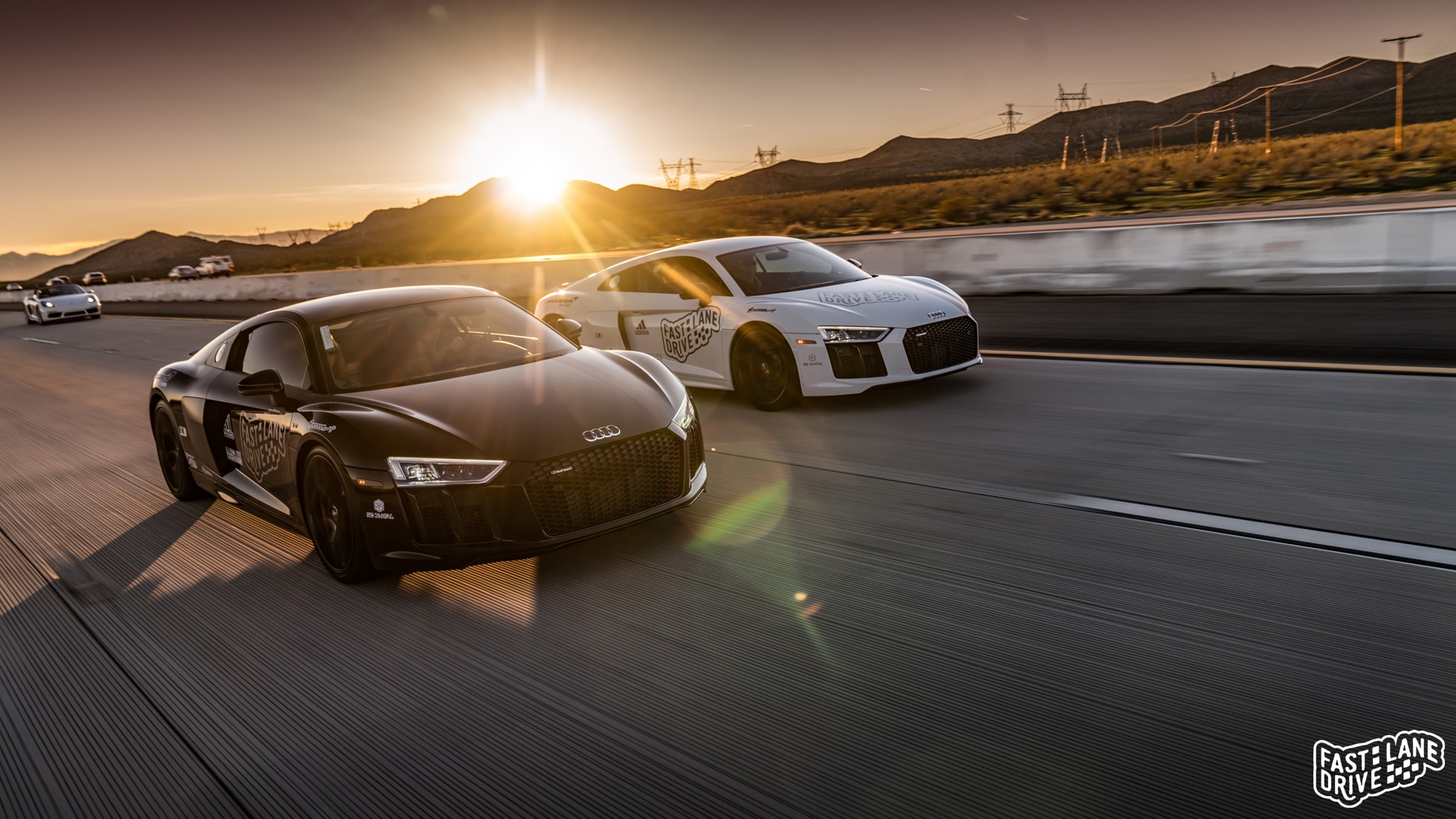 The group arrived in Vegas just after dark to what we would call home for the next two nights,
Encore by Wynn
. The stunning all suite hotel was the perfect venue to host a group such as ours. We had a couple hours to rest up before heading to dinner at Encore's award winning restaurant
Andrea's
. With our stomaches full and eyelids heavy we turned in early, not an easy feat in Las Vegas, but needed to complete the Saturday full of activities.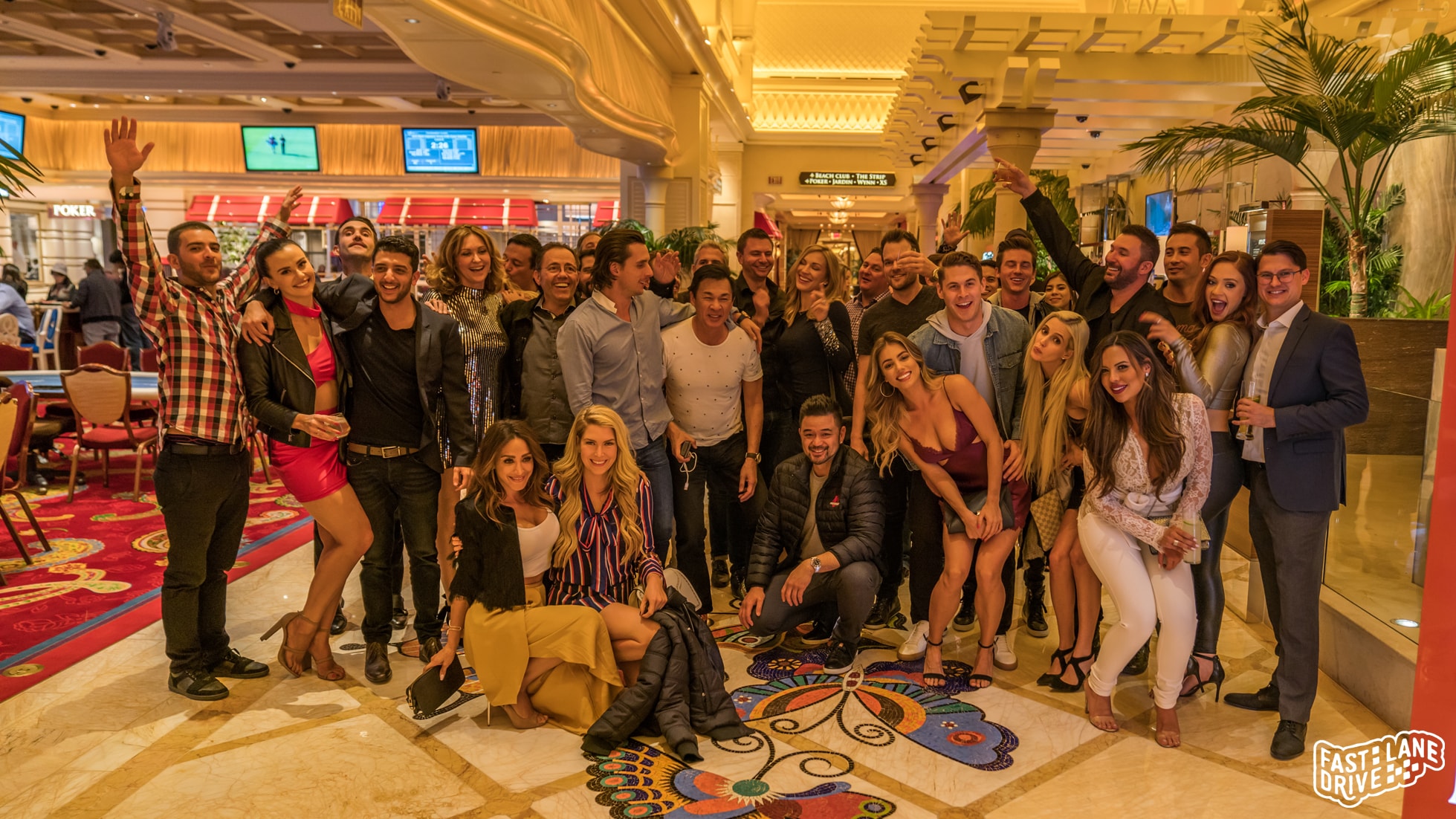 After a good nights rest it was time to regroup, hit the road, and make the trek to the Race Track at
Speed Vegas
. This was our first chance to hit the strip as a group and take advantage of the sights.
Day 2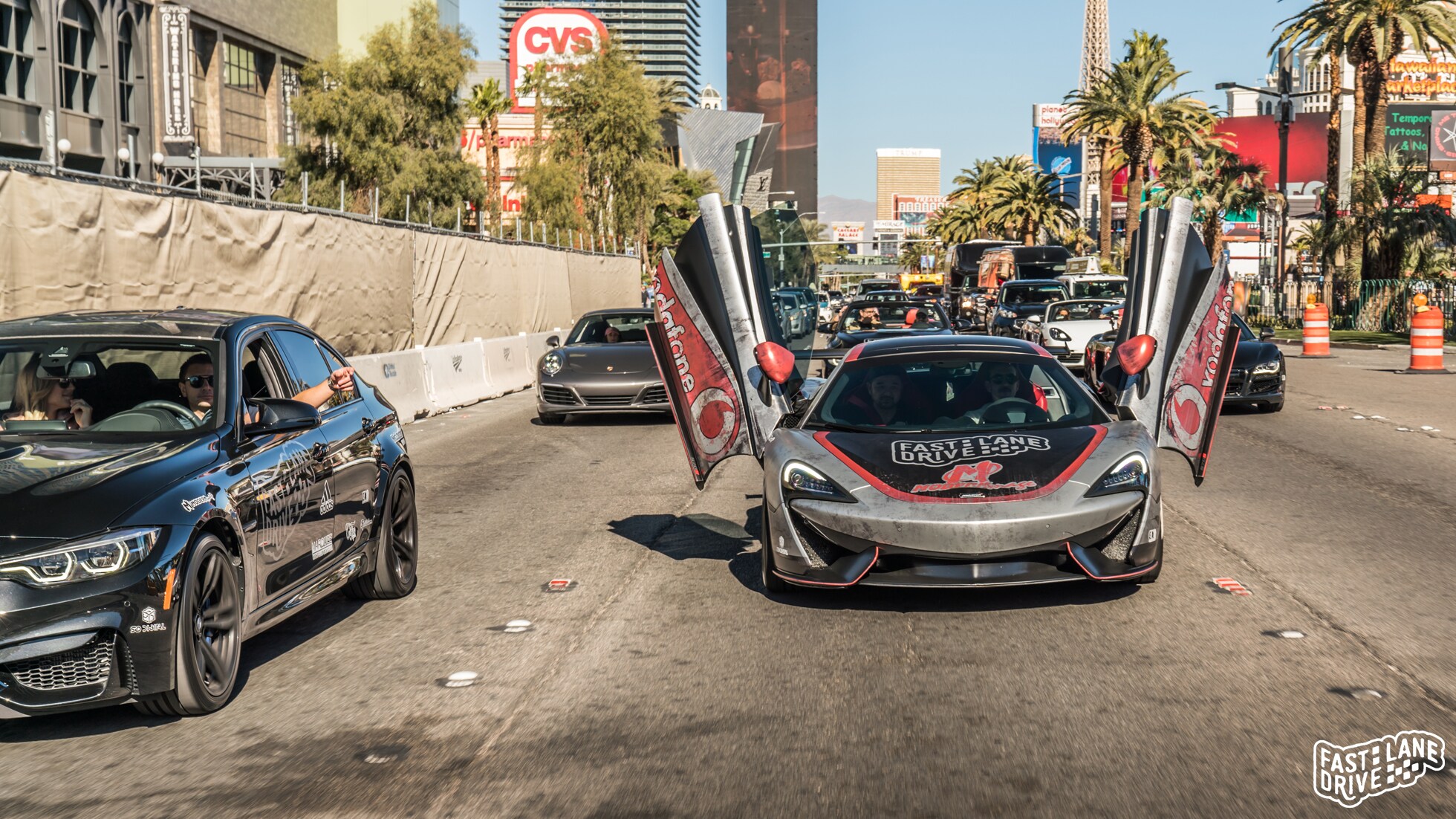 Speed Vegas
is a adrenaline junkies dream location. On one side you have a 1.5 mile racetrack with a dozen different supercars to choose from. On the other side of the facility is a trophy truck off road track, complete with massive jumps. Once we arrived it was time for everyone to check in, pick their experience, and pick their ride. Most participants opted for the race track and a supercar to rip around in. One group however, decided to get dirty and catch a whole lot of air on the dirt track side.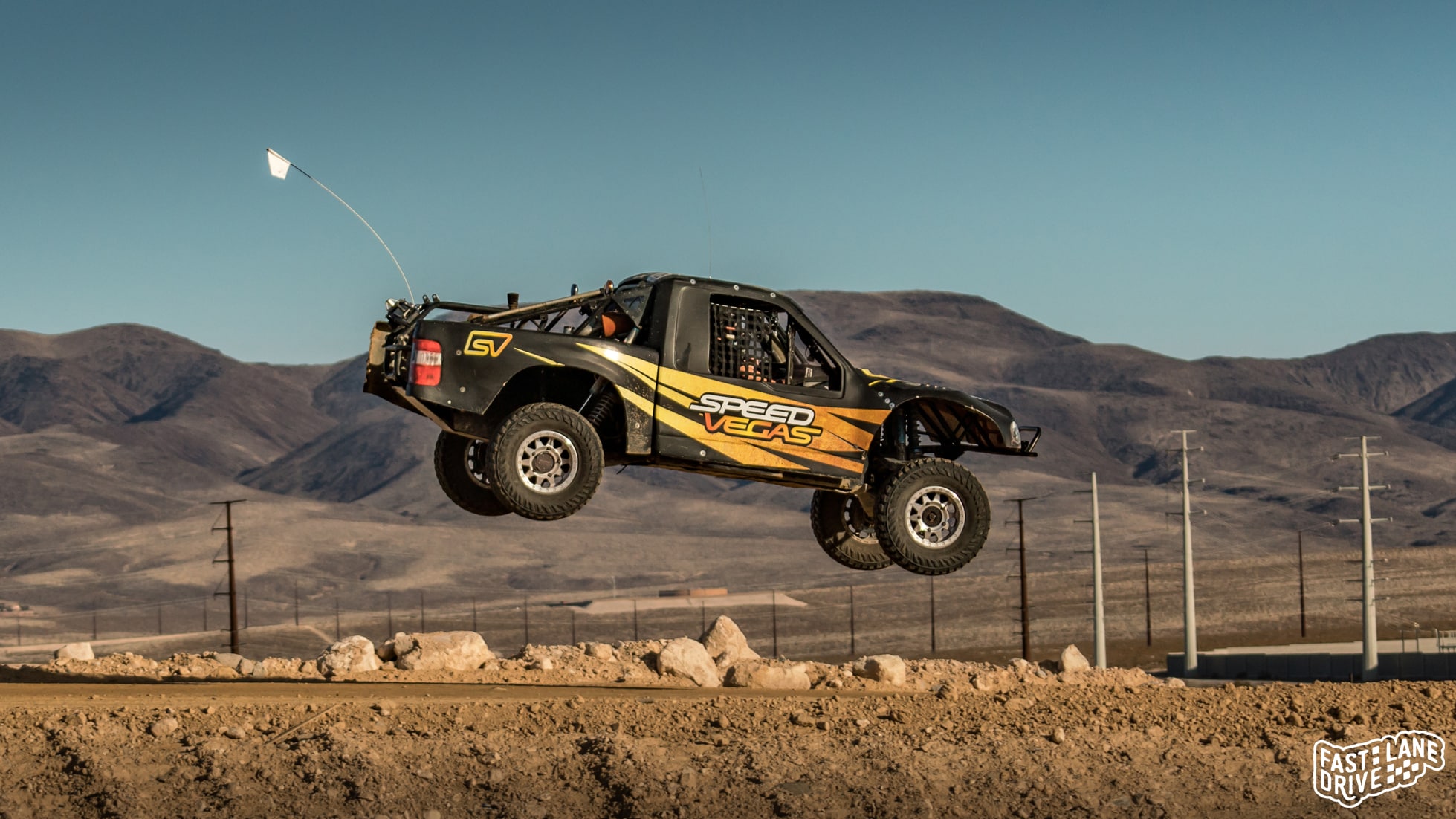 Once everyone had gotten their fill of speed and adrenaline, it was time to head back and get ready for what would be an absolutely incredible evening. Before we did that, we needed one more chance to take photos. In a group of 25, Fast Lane Drive took over the sunset lit Las Vegas Strip, on our way back to Encore.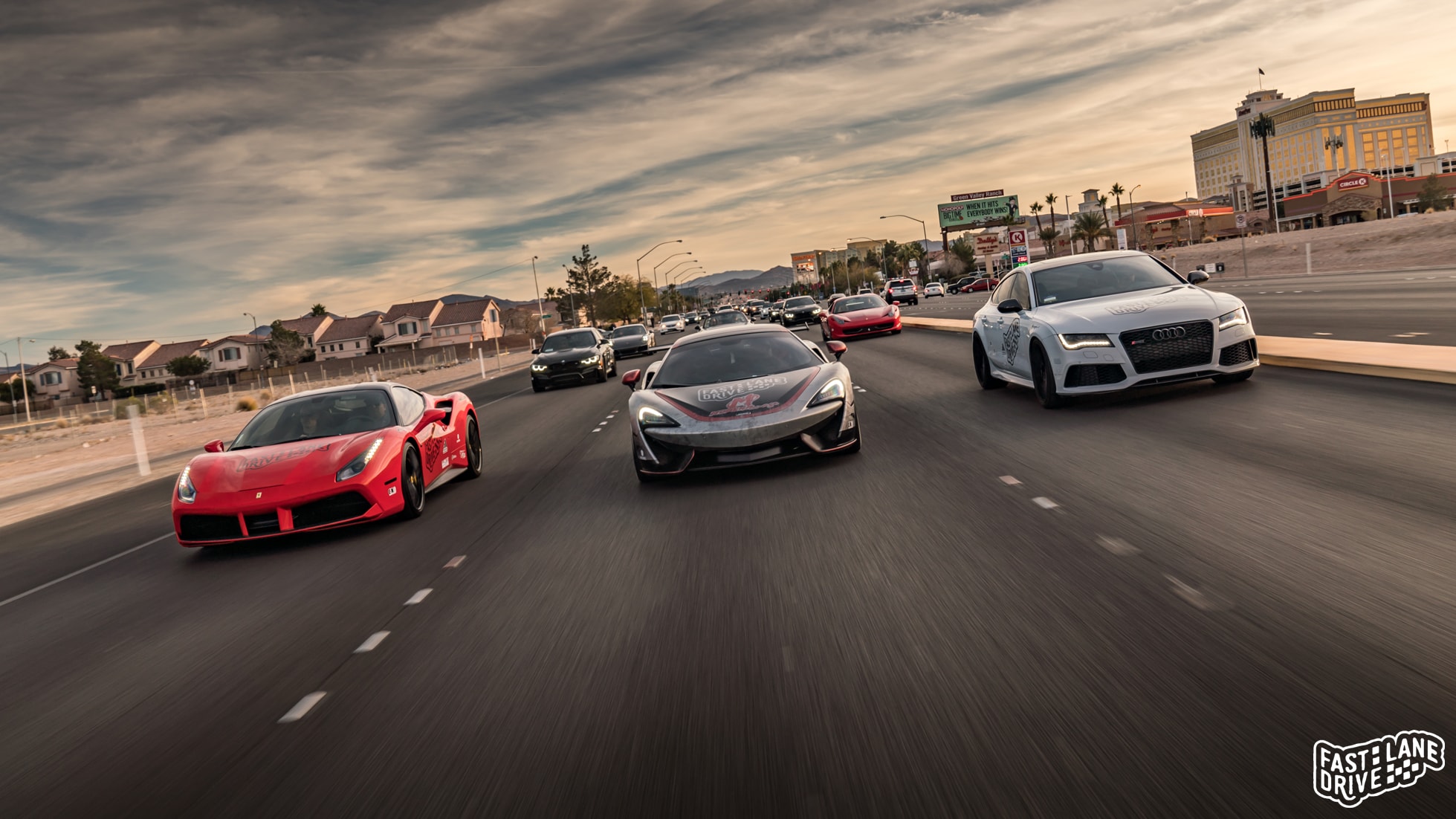 This is the part of the weekend where the photos stopped, but luckily the video kept going. Following our arrival and recoup back at Encore, we met for a special presentation. This rally wasn't just about a young, successful group of people going to Vegas for a weekend, it just so happened that one of the Founding Members was celebrating his 30th birthday. For this reason, we turned things up to 11 and hit the town. Starting with Limo bus rides to The Cosmopolitan for dinner at
STK
. Following the decadent meal we then entered the hottest club in Vegas,
Marquee
. Bottle service for 60 people is no small feat. We quite literally took over half the available seating and celebrated in style. For a video recap of the entire weekend including our time at Marquee,
CLICK HERE
.
The following day which saw most participants not quite feeling 100%, Fast Lane drive had arranged for everyones cars to be shipped back to San Diego, while we enjoyed a short flight home. The drives, activities, food, parties, the entire experience, it was some of the most fun any of us had ever had an something we wont soon forget.